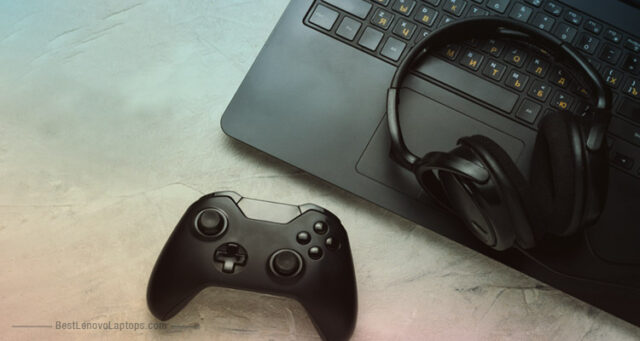 If you are a gamer, you would definitely want to amplify your gaming experience with better resolution and better response time of your gaming laptop.
The portable gaming has made it easy for every student on the campus and every businessman in his business commute to enjoy an exciting gaming space.
Thanks to the powerful graphics card, supportive ergonomics, and great audio which make gaming laptops a completely portable package. To enjoy the most popular and fast gaming, you don't need to invest a lot because we are here to advise you some of the best yet affordable gaming laptops of 2023. These laptops are a great alternate for those who are looking to minimize their Desktop space and want to enjoy a mobile gaming lifestyle.
With a formidable amalgam of power, refined design, and absolute affordability, these powerful processing laptops are a great investment, for sure.
Top Picks of 2023
1. Lenovo IdeaPad Gaming 3i Review – (15-inch)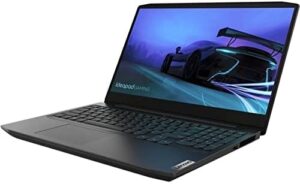 With powerful performance and supreme battery life, Lenovo IdeaPad 3i is a solid budget gaming laptop. Packed inside a black chassis with corners curved slightly inwards, this gaming laptop is stylish and compact at the same time.
At 4.8 pounds and 14.13 x 9.83 x 0.9 inches, IdeaPad 3i is a very slim laptop and extremely comfortable to carry.
The Lenovo IdeaPad 3i 15.6-inch, 1920 x 1080 display boasts a 120Hz refresh rate and is decently bright. The 58% of the sRGB color gamut is not our favorite feature of this IdeaPad. The color accuracy of the images are not convincing as well.
Talking about the keyboard, the keys are pleasant to type on and produce a very palm-friendly clicky feedback. The ports reside on the back of the right and left sides, creating no fuss to the palm. The keyboard lacks RGB-key lighting which can be disturbing sometime.
To manage the graphical functions, the IdeaPad 3i has a 4 GB NVIDIA GeForce GTX 1650 Ti graphics card. At a pocket-friendly price, Lenovo IdeaPad 3i offers a very decent battery life that can survive long gaming hours.
The IdeaPad comes with the support to Lenovo Vantage which is packed with tons of features such as customizing the fan speed, Wi-Fi settings and even charging settings.
What We Like:
Decent battery life
Ergonomic design
Pocket-friendly
What We Dislike:
Our Verdict: Overall Lenovo IdeaPad 3i is packed with powerful features that pleasantly enhance gaming performance.
If you are not fond of bright displays, this budget gaming laptop will serve you quite well.
2. Lenovo Legion 5i – (15 inch)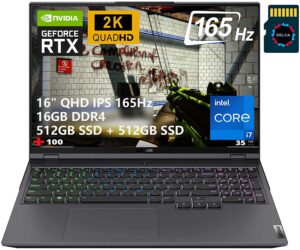 With a decent VR benchmark score and a classic minimal design, Lenovo Legion 5i 15 inch tops up our list of the best gaming laptops 2023. Covered in a beautiful, subdued chassis, coated in phantom black, this machine has a very strategic design that ensures a very comfortable gaming.
To make cable management much easier, most I/O ports are placed at the back of the device.
Talking about the webcam, Lenovo Legion has 720p HD camera on the top bezel. The camera also supports a privacy shutter which is a plus for security-minded gamers.
Lenovo Legion 5i supports an Intel 10th Gen i7 6-core processor and GeForce GTX 1660 TI which ensure fantastic gaming performance.
Talking about the ergonomics, the keyboard is exceptional that supports various lighting settings.
The trackpad needs a bit improvement but it functions really well. We are actually disappointed by the display which is quite dimmer for the gamers while playing dark themed games. We also found file transfer speed and video trans coding mediocre which might be disturbing for non-gamers.
What We Like:
Affordability
User-friendly ergonomic design
Well-placed ports
What We Dislike:
The dimmer display
Slower file transfer speed
Verdict: Lenovo Legion 5i is a very well-built gaming device that does not break the bank and provides a very pleasant gaming experience. The battery life is extremely supportive to the gaming as well as for daily office work routine.
With excellent performance and a solid chassis, Legion 5i 15" is absolutely the best gaming laptop, that too at an affordable price.
3. Legion Y540 Gaming Laptop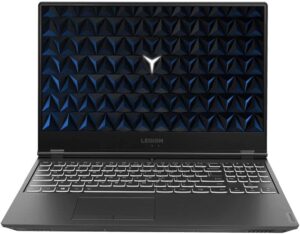 Packed in a lightweight, slim and decent design, Lenovo Legion Y540 is a powerful gaming laptop that comes at an affordable price. Legion Y540 is available in 15-inch and 17-inch sizes with various configuration options that meet all of your gaming needs.
With Legion Y540, Lenovo sensibly offers features and design elements that support gamers at each level. For the price it is being offered at, it is quite a capable gaming machine that can do everything you throw at it without any issues.
It brings on a 9th-gen Core i7 processor, 16GB RAM, 1TB SSD, and the RTX 2060 GPU, all of which contribute to amazing gaming performance.
The keyboard is much nicer with a more standard layout and crispier feedback. Fortunately, the keys are backlit, the bright light spreads across the whole keyboard but you need to manually turn the light off each time.
We wish Touchpad to be slightly bigger to comfortably accommodate gestures.
Lenovo Legion Y540 has a decent panel for everyday use with sufficient brightness, contrast and color accuracy.
The thermal system of Legion Y540 is very efficient and keeps the laptop cool even under busy working or gaming hours. Lenovo has also managed to keep the laptop's fan noise under control so it does not create any disturbance.
What We Like:
Excellent heat management
The gamers-friendly hardware design
Fast response rate
What We Dislike:
Average battery life
Display is slightly dimmer
Verdict: Lenovo Legion Y540 is a smart gaming laptop that is one of the most affordable laptop in the market. For its stylish design and powerful performance,
Legion Y540 is a good buy regardless of its average better life and dull display.  Available in 15-inch and 17-inch sizes, this budget gaming laptop supports various configuration options which make it a worth purchasing gaming laptop.
4. Lenovo ThinkPad X390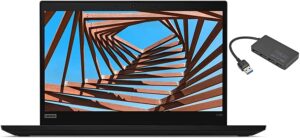 Lenovo ThinkPad X390 is a light-weight gaming laptop that is combined with the strong build quality and gripping performance. The magnesium alloy chassis stands maximum strength with the strong metal that feels cool to the touch. The hinge is very tight and you will need both hands to open it.
The keyboard in ThinkPad X390 is not full-sized rather it spreads upon 10.5 inches instead of standard 11.25 inches. The button-less touchpad is sized proportionally to the screen with a very solid feel. The display of ThinkPad X390 is very enjoyable and colorful in real. The quad-core processor invariably provides strong productivity performance and good efficiency.
The heat management system is pretty much satisfying in ThinkPad X390, neither the chassis nor the keyboard becomes uncomfortably hot during long gaming hours. We found battery life a little disappointing which questions its performance through a full working day without needing to the plugin.What We Like:
Excellent durability
Nice display
Easy on pocket
What We Dislike:
Disappointing battery life
Verdict: Although Lenovo ThinkPad X390 is not the best gaming laptop in the market but its display, design and pocket-friendliness make it an ideal option to consider. The display is very nicely balanced and carries enough brightness to amp up your gaming experience.
Please also check these top laptop list