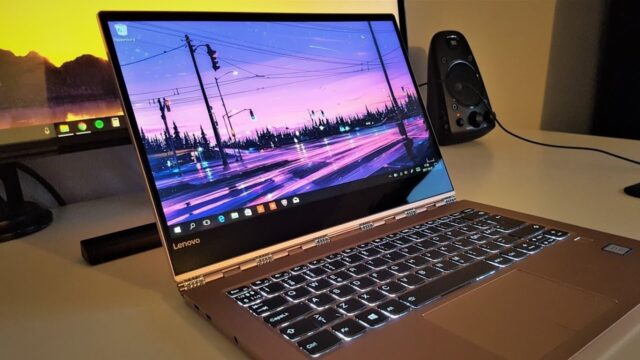 Packed inside an intimidating design and backed by stellar performance, Lenovo Yoga 920 is the best 2-in-1 laptop.
Thanks to the powerful combination of beautiful design and strong performance that helped Lenovo in making its own brand name in the market.
Lenovo Yoga 920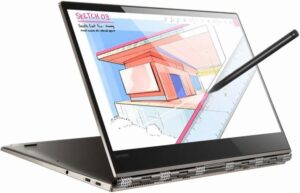 With Yoga 920, Lenovo comes up with sleeker touch screen laptop design packed inside a gorgeous aluminum chassis. The power of this 2-in-1 mini laptop is unbeatable.
This convertible laptop does not compromise on performance. It provides the smoothest computing experience. The performance is backed up by Core i7 so you are going to have a memorable time with Lenovo Yoga 920.
The Design
Those who have used Yoga 910 won't find any distinguish design variation in Yoga 920. Albeit with several improvements, the design does not affect the overall aesthetic of this hybrid laptop.
It looks slimmer and stylish with glossy metallic finish that gives it a premium feel. Never mind to keep a small handkerchief to remove smudges from the metal. The hinges at the back look extremely appealing and perform lots of actions in screen orientation.
With the help of six interlocking sliver pieces at the hinges, you can rotate the screen as much as you want.
Other than using it as a standard laptop or tablet, you can also use it in tent mode. In this mode, you can use keyboard as a stand to watch movies. You can flip your screen at an extreme angle of 180 degrees.
It weighs around 1.37 kg, feeling lighter on your shoulders when packed inside a handbag. The razor-thin 5 mm bezel around the screen is an absolute favorite. The laptop's bronze color is even more attractive. It gives a shiny metallic shimmer to the keys. The size of the keys is also improved.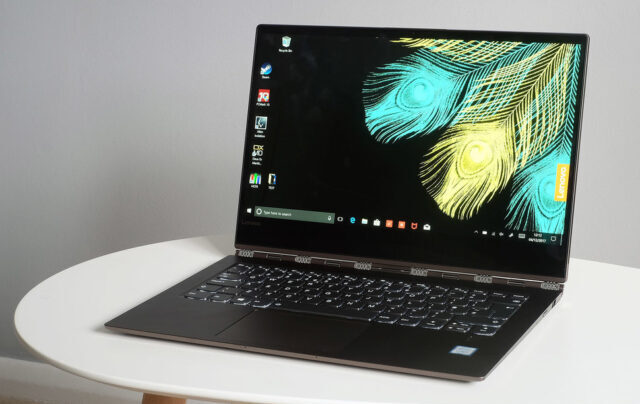 The track pad works very smooth. The thin design of Yoga 920 does not support multiple connectivity ports.
There is no slot for SD card which is a sheer disappointment. You will only find 3.5mm headphone jack, two USB-C thunderbolt ports on the left side and a USB 3.0 port on right side.
The Display
Get your entertainment hours a stunning touch of wide angle 4K display. The 13.9 inch display comes in two resolutions i.e. 1920 x 1080 and 3840 x 2160.
The sharper and brighter images make Yoga 920 a top-notch pick. The full HD touch screen is very good for web browsing, watching movies or Netflix binging.
The display does not provide full color gamut coverage which makes Yoga 920 a slight disappointment for serious creative and art work.
For quick login, you can use fingerprint scanner instead of Windows Hello since Yoga 920 does not provide face recognition. Thankfully, the camera is located at the center above the screen.
The camera produces crisp and clear images and works perfectly for video chatting. The two JBL speakers provide great sound quality. The speakers are placed at the bottom which may cause a cheeky audio sound.
Performance & Battery life
It is built over 8th generation Intel Core i7 processor, 8GB RAM and 256GB SSD. You can always upgrade it to 16GB RAM and 512GB SSD.You will be enjoying powerful processing for day to day tasks. It is not a perfect fit for graphic-intensive apps as it lacks dedicated GPU. This makes it not-so-recommended laptop for gamers or graphic designers.
Do not forget the improved battery life that has won our hearts already. The battery lasts a good 12 hours on our video testing at a full charge. The 4K screen mode drains out the battery fast so keep it in mind.
With exceptional battery life, many professionals would love it for a day long work. The fans do not make enough noise but under demanding tasks, they could be noisy.
The Stylus
Yoga 920 comes with Lenovo's Active Pen 2 stylus. Y ou do not need to spend extra amount to purchase stylus.
A stylish stylus comes with Lenovo Yoga 920 and works smoothly on the screen. You can create notes on the screen through pressure-sensitive stylus without worrying about the screen movements.
What we dislike is the awkward placement of stylus holder. It is placed on the side of the laptop that blocks up the power button and creates annoyance.
It would be better to include a magnetic solution to this awkwardness.
Verdict:
With the lack of a dedicated GPU, many videographers do not get the maximum out of this hybrid laptop. The keyboard feels shallow but it's almost fine.
The price of a standard Lenovo Yoga 920 starts at $1350. Though it is a little expensive but its power to perform complex tasks is unparalleled.
It provides a powerful and memorable computing experience for everyday usage. With many improvements, it has managed to grab attention in the market.
If the price of this laptop is way above the budget, Lenovo Flex 11 Chromebook is an amazing choice
Many upgrades are still to be made but for now Lenovo Yoga 920 is a capable laptop which can be occasionally used as a tablet.