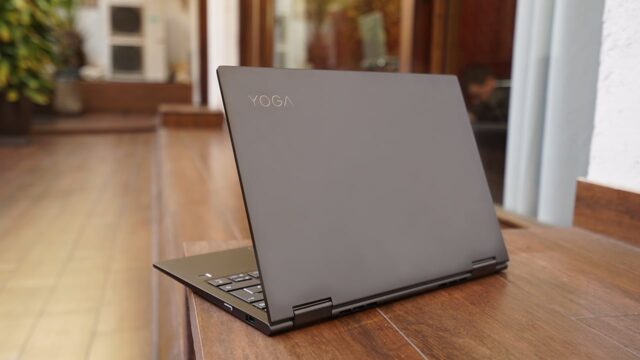 When it comes to picking up a laptop that is fully-featured, packed inside a stylish chassis and does not break the bank, Lenovo Yoga 730 is the perfect fit.
If you have already been a user of Lenovo Yoga 720, you may found similarities between the both. Yoga 730 is slimmer, thinner and more powerful than its predecessors. It is a better choice for those who want to use a single device as a laptop mostly, and occasionally as a tablet.
For those who want to enjoy staggering computing features at pocket-friendly price, Yoga 730 is that candidate who never disappoints.
Lenovo Yoga 730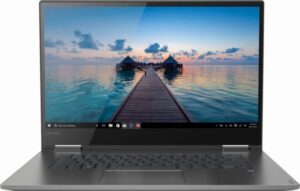 The Design
We are extremely impressed by the build quality of Yoga 730. Packed in a solid aluminum chassis, it is a powerful computing kit. The screen is slimmer and the edges are rounded more, especially at the back.
We found it heavier when packed inside the bag. Despite the weight, this convertible laptop is compact and thin with minimalist look and a simple 'Yoga' logo engraved at the corner. With that, you can easily compromise on its weight. Being small, it fits easily on lap while travelling.
Don't forget the hinges which are tight enough to hold the screen in various laptop orientations. It is the flexible hinge that makes the 360-degrees flip and flop design possible. Use Yoga 730 as a standard laptop, tablet, tent or as a stand. You won't be disappointed by the screen performance in any of the mode. The 13.3-inch full-resolution touch screen is surrounded by very thin bezels which make your screen look even more stylish.
The Ergonomics
Yoga 730 provides a sensational typing experience, thanks to the sturdy keys which never make your fingers feel tired. The backlit keys are responsive, accurate and a tad stiff. The keyboard will allow you to float around the buttons, quickly and quietly hammering out documents.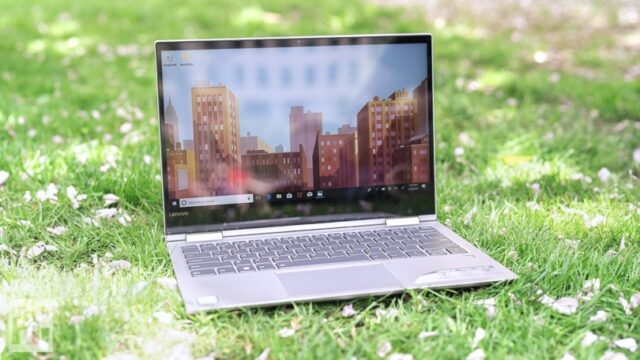 The trackpad is pretty decent. It is broad, smooth and responsive, showing no signs of friction. The mounted buttons are a little spongy, but you'll soon get used to them. Although the silky trackpad is quite productive, but don't expect it to perform equally well for gaming.
The Display
With the 13-inch FHD wide-angle display and razor-thin bezel edging around the screen, you get to enjoy wide viewing angles and entertainment experience like never before. Due to the glossy finish on IPS touch panel, the screen easily gets fingers' smudges. We found display a little dimmer even at its full brightness level.
Above the display, you find a 720p webcam at the center position. The camera quality is fine enough to make clear video calls. The images may look a little grainy, but the video quality is satisfactory.
Overall, the Yoga 730's screen is pretty decent. It is good enough for less-intensive photo work and artistic tasks. But, if you are looking for a screen that produces more precise and demanding creative work, you may look somewhere else.
Audio and Battery Life
Featuring the powerfully immersive sound of a Dolby Atmos Speaker System, the Yoga 730 offers a home-theatre experience. The device's speakers are excellent. They are well-balanced, with ample bass and plenty of clarity.
What we dislike about Yoga 730 is its low battery life. Though the battery life of 10 hours gets you through more than an entire day of usage, but this is not the case when running graphics-heavy applications.
Performance
Powered by 8th Gen Intel Core i5-8250U mobile processor, 8GB system memory for advanced multitasking, high-bandwidth RAM to smoothly run your games, 256GB SSD and photo- and video-editing applications, Lenovo Yoga 730 is a crowd-pleaser for those who have a taste for Windows tablets.
You can handle some gaming on Yoga 730 as well but this is certainly not friendly to graphics-intensive apps. Comparing it to Dell, we found it a little slower, but it still has the power to handle multi-tasking and most work tools.
Our verdict:
Few compromises are needed to be made if you want to enjoy a feature-packed computing experience at an affordable rate. You won't find Yoga 730 a perfect Compaq laptop due to its dimmer display and low battery timing. But its power to handle multiple tasks is unbeatable. If you, however, are looking for more budget options, Lenovo ThinkPad X is an amazing pick. You can mitigate the short battery life by taking FHD rather than UHD screen option.