Lenovo is among the top-rated best laptop brands for some very good reasons. The company has introduced some very astonishing, fast portable laptops which are for just about every user . From manufacturing powerful gaming laptops to introducing budget laptops, Lenovo caters to pretty much every single need.
Through ThinkPad Yoga lineup, Lenovo tends to focus more on design and covering a wide range of specifications. No matter what you are looking for, you will get only the best.
Lenovo ThinkPad X1 Yoga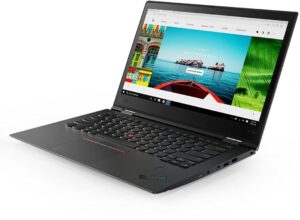 The new Lenovo ThinkPad X1 Yoga is par excellence for its bossy 2-in-1 convertible design and productive performance. X1 Yoga is not only secure but powerful by all means.
The Design
The powerful features of X1 Yoga are packed inside a soft black chassis that feels luxurious and handy. What makes it light-weight is the carbon fiber and glass coating which makes it weigh around 2.49 pounds.
The 360-degree hinge allows you to use it as a tablet or to prop it up in the tent mode.
With ThinkPad X1 Yoga, Lenovo has focused more on the hardware configuration. Opening the fancy lid reveals a slick and stylish keyboard which automatically gets recessed when use X1 Yoga in tablet mode.
Super comfortable. Isn't it?
To help creative users to unleash their creativity, X1 Yoga comes with built-in active stylus that fits into a slot at the bottom right edge.
Take notes, create documents, draw sketches and go ahead with your imagination as much as you want with this rechargeable pen.
The number of ports is enough including two USB-C ports with Thunderbolt 3, two USB Type-A ports, an audio jack, an HDMI and an SD card reader.
We are actually disappointed by the lack of full-sized Ethernet connector. Ethernet port requires proprietary adapter which is extremely inconvenient.
The Display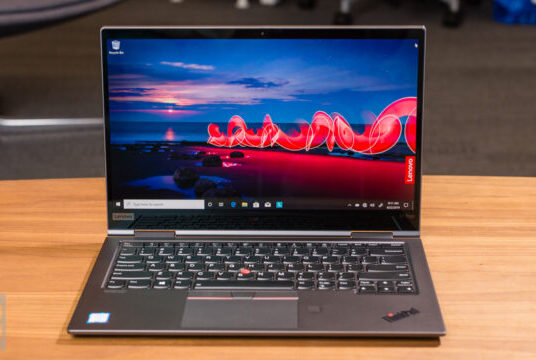 With our 14-inch quad HD screen, we find an astonishing HDR touch screen. Not only the colors are vivid but the images are sharper as well.
From encoding video to rendering 3D images, X1 Yoga is quicker and brighter than its competitors.
You can always have the option of choosing low-weight touch option with FHD display or Dolby Vision HDR technology which offers 100% color gamut.
Lenovo has promised to deliver increased brightness, expanded contrast and accurate colors with its X1 lineup.
Battery Life
The battery life is so good in ThinkPad X1 Yoga especially considering the demanding HDR display. Under the powerful processing, the battery gets less drainage and so, creates a powerful impact.
Another thing to consider here is the fast charging of X1Yoga. It gets charged quickly. If you are running low on battery, the Rapid-Charge Technology is there to provide you an 80% capacity in just an hour.
Performance
Backed by sixth-generation Intel Core i7 processor, this convertible laptop is excellent at powering various productivity tasks. It is an excellent computing device for everyday's tasks including web browsing, word processing, video conferencing and much more with lenovo laptop yoga x1.
From the arctic wilderness to desert dust storms, from zero-gravity to spills and drops, you can trust this laptop to handle everywhere. Thanks to its durable design.
For quick login, Windows Hello is there for you or you may take the help of IR camera for quick facial recognition. For IT administrators, the discrete Trusted Platform Module and Fast Identity Online keeps the data protected under strict security constraints.
Our verdict:
Packed inside a luxurious fancy chassis and powered by excellent computing performance, ThinkPad X1 Yoga is the finest deal you can expect from Lenovo. This is a true 2-in-1 convertible laptop that makes computing experience fast and pleasurable.
If you are looking for a business 2-in-1 laptop that has a battery life above the average, Lenovo ThinkPad X1 Yoga is a strong candidate with its exceptional performance and sturdy design. This detachable Compaq laptop is super comfy, durable and powerful enough to perform all types of business computing.
If you prefer to be able to game on your laptop, Lenovo IdeaPad 720s is our recommendation!