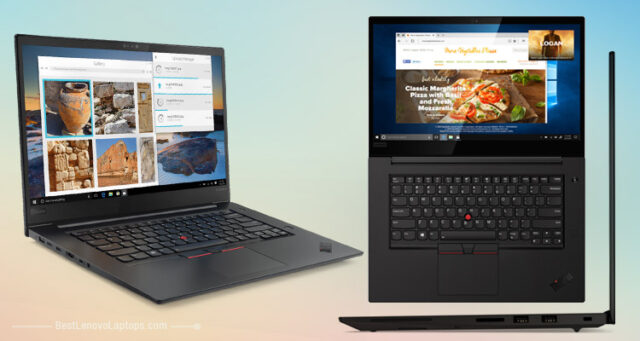 Inspired from the X1 Carbon, Lenovo ThinkPad X1 Extreme has a tremendous design along with fast performance. It has a quality build that is simply a joy to type on.
Lenovo ThinkPad X1 Extreme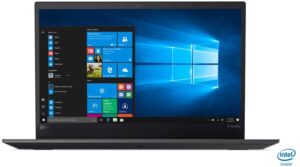 Design
Made up of luxurious materials and enclosed inside a matte black carbon-fiber chassis, ThinkPad X1 Extreme has a sophisticated design. It has a stylish red and black logo stamped on the bottom corner of the lid. The keyboard is extremely comfortable that rests on a black deck.
The uniquely curved keys are large and well-spaced and produce a pleasant typing experience after long sessions. A small TrackPoint input device is included in the form of red circle at the middle of the keyboard.
Although its body has a nice finish but don't forget to keep a small handkerchief to keep the surface smudge-free. At the upper right corner of the deck, you will find a circular power button. The screen is surrounded by thin bezels to make the design look more attractive.
Weighing around 3.8 pounds, X1 Extreme is lighter than its competitor devices. On the right side, you will find 2 USB 3.1 Type-A ports, an SD card reader, an optional smart card and a Kensington lock.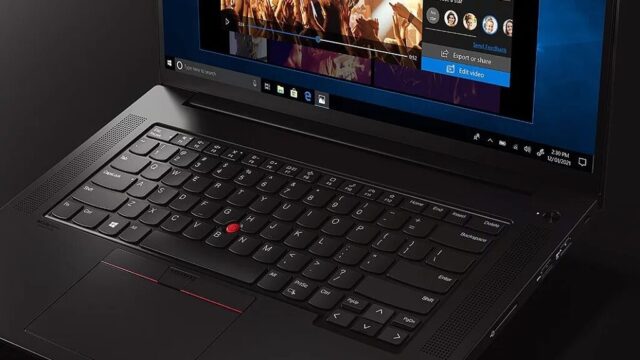 On the left side, you will find 2 Thunderbolt 3 ports, an HDMI, an audio jack and power input.
One of the main factors that keep it going is its durability. It can survive humidity, dust and extreme temperatures without affecting the performance.
To elevate the security level, you will be finding a fingerprint scanner to make login securer. The facial recognition also makes the login easy for you.
The Display
Built over phenomenal 4K HDR touch-screen matte display, ThinkPad X1 Extreme produces exceptionally vibrant colors. It delivers high dynamic range colors which stand out.
Undoubtedly, this is one of the best 15.6 inch displays on a consumer-grade business laptop. The panel scores 186% of the sRGB color gamut. The Dolby Vision HDR technology is also there to provide an increased color gamut score.
Providing 366 nits of brightness, the display is bright and produces sharp and crisp images.
Not only for business purpose, but you can use this portable laptop as an entry-level gaming machine as well. To play modern titles at low to medium graphics, ThinkPad X1 Extreme comes up with a dedicated GPU.
Performance
Lenovo ThinkPad X1 Extreme is built over a faster Core i7 processor and comes with 32GB of RAM and massive 1TB solid state drive. Global service options keep you protected, while built-in features like Glance eye-tracking and rapid-charge technology boost productivity levels.
Besides the fast performance that it offers, the fans really make disturbing sound when system is under stress. The vents on the bottom plate produce heat and whistling sound which is extremely distracting. We are actually not impressed by the battery life that lasts in 6 hours after continuous web surfing which is terrible.
With a 15-inch 4K HDR display, Thinkpad X1 Extreme is surprisingly thin, light and powerful portable laptop that has a solid construction and stellar performance which is already a win for Lenovo.
Please also check these top laptop list